At Dr. Tamara Maule & Associates our Lenscrafters eye doctors specialize in understanding how the human eye really works, as well as the various diseases and conditions that could affect your vision. There are many things that can affect the health of your eyes and your vision, so our optometrists use state of the art equipment to look at the inside of the eye, giving us the ability to see many diseases which our Boca Raton patients may or may not be aware of. These may include macular degeneration, glaucoma, diabetes, hypertension, multiple sclerosis, aneurysms, and tumors to name a few. Even if you do not have any vision problems, you should always get your eyes examined once a year.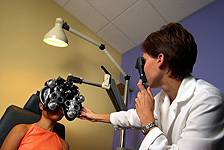 Seeing clearly is just one part of your overall eye health. Our eye doctors know how age and risk factors can affect vision and eye sight over time for young and old, and we understand the benefits and features of corrective lens options such as eyeglasses and contact lenses, as well as surgical options.
Our Boca Raton eye doctors make sure to take the time to explain the results of your
eye examination
, describe your options and listen to your
eye care concerns
. Maintaining good eye health is an ongoing partnership, and we hope you will ask questions and share your health information, which could be crucial to monitoring, diagnosing and treating potential vision problems.
Meet Your Boca Raton Optometrists:
Dr. Tamara L. Maule attended Lake Worth High School and graduated from Stetson University in 1985. She received her Doctorate of Optometry degree from Southern College of Optometry in 1989, graduating cum laude. She has been practicing in South Florida since then.
Dr. Maule is married to David, her husband of 22 years and they have a son Zachary who attends Palm Beach School for Autism. Because of her experience at home, she has become especially understanding and patient in examining the special needs population.
Dr. Maule is an active member of the Palm Beach County Optometric Society as well as the Florida Optometric Association. She has served as a Clinical Examiner for both the National Board of Examiners in Optometry as well as the Florida Board, and was appointed by the Governor of the State of Florida to serve on the State Board of Optometry.
Dr. Kimmelman is a graduate of Florida State University in Tallahassee, and earned her Doctor of Optometry degree in 2003 from Nova Southeastern University College of Optometry in Fort Lauderdale. She completed a Residency in Primary Care at Nova Southeastern University in July 2004.
After completing her residency, Dr. Kimmelman went on to be the Clinical Director of TLC Tampa for 2 and a half years, then relocated back to South Florida and joined Dr. Lessner at Millennium Laser Eye Center in January 2007. Dr. Kimmelman also specializes in Primary Care Optometry and has been in practice with Dr. Tamara Maule since October 2009.
She is a member of the American Optometric Association and Florida Optometric Association, and has had the honor of serving as Secretary of the Broward County Optometric Association. Dr. Kimmelman is happily married and mom to 2 beautiful little girls.
Dr. Catherine Batton, who specializes in contact lens fittings and ocular disease management, graduated with a Bachelors in Biology and a Doctor of Optometry degree from Nova Southeastern University. She grew up in Greensboro, North Carolina, where her family still lives. One of her passions is working with Volunteer Optometric Services to Humanity, a non-profit organization on a mission to bring vision to every person on the planet. When she is not working, you can often find her on a road trip, with her camera.